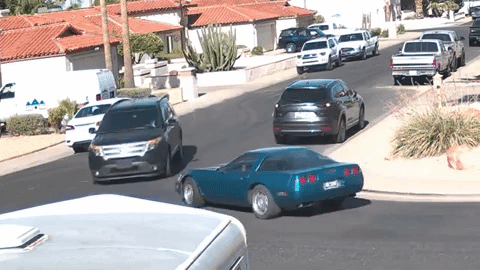 Watch: Unconscious Ford Driver Crashes Corvette, Monster Truck Style
Content of the article
There's a section on the great human experience aggregator, Reddit, that's 100% dedicated to sharing the stupid things people do while driving motorized vehicles.
Content of the article
We apologize, but this video failed to load.
Watch: Unconscious Ford Driver Crashes Corvette, Monster Truck Style
Back to video
You'll see all sorts of crashes and chases on the r/IdiotsInCars subreddit – honestly not a bad way to kill an hour or two – including a recent home security camera clip that shows a Ford Explorer playing monster truck with a vintage Corvette on a public road.
Posted by redditor u/Vannis, the video opens with a black Ford Explorer driving quite slowly down a residential street in Glendale, California. The driver is obviously distracted, because when he comes to a bend, he doesn't seem to notice the blue Chevrolet C4 Corvette also cruising the bend. Without signaling the turn, the Explorer rams straight into the 'Vette with its left front wheel and ends up slowly but surely crawling over it, Grave Digger-like, smashing the car's driver's-side window and rear-view mirror. The Explorer finally comes to a stop behind the vehicle after bringing its tires back to the curb.
Content of the article
Titled "What the fuuuu", the clip garnered almost 3,000 comments, with many dropping a form of "I'm just gonna walk past you".
But an enlarged review of the video appears to reveal that the driver is using a portable device, likely a cellphone, in front of his face. Send text messages ? Talking on loudspeaker? Looking for an address on a map? Whatever they did, they weren't watching the road.
Luckily for the oblivious Explorer driver, the Corvette belonged to the more affordable fourth generation, which today retails for US$6,000-9,000, not the C3 or the more coveted younger generation, which has an average price of around US$30,000.