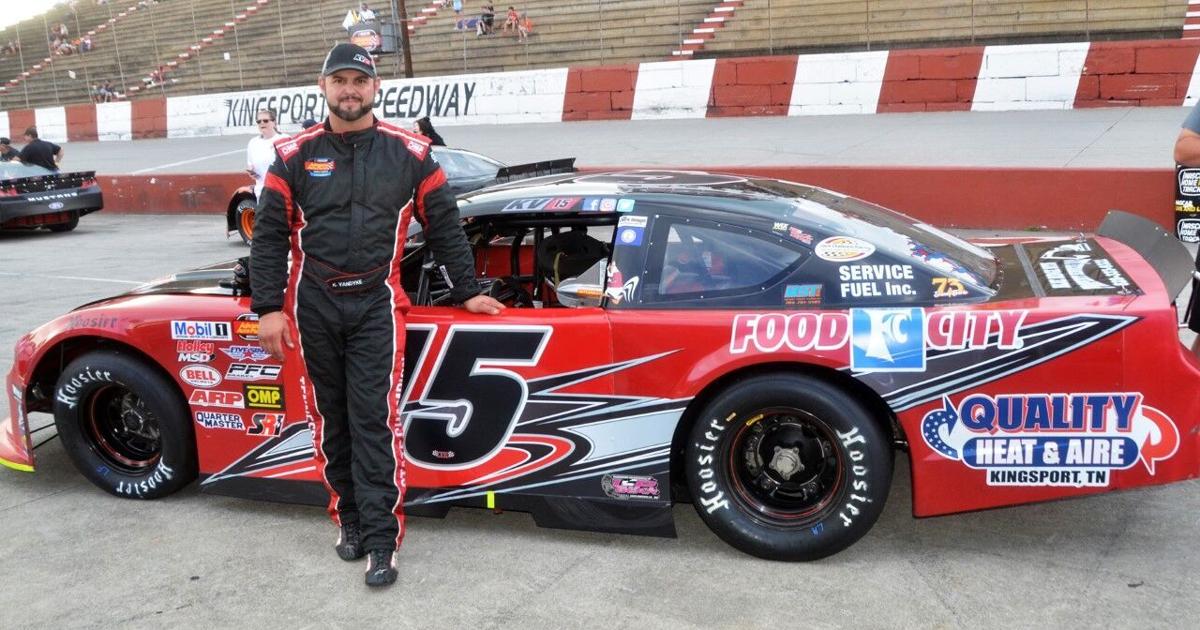 VanDyke and Canter showing early dominance at Kingsport Speedway | Sports
KINGSPORT – Kres VanDyke and Kevin Canter are once again proving to be the men to beat at Kingsport Speedway.
VanDyke, a three-time Late Model Stock track champion, has a six-game winning streak on the three-eighths-mile concrete oval. The Abingdon driver also posted a fast time in qualifying on Friday before the NASCAR Weekly Racing Series program collapsed. He will look to extend the streak in the next NASCAR Weekly Series races on July 15.
"It kept everyone focused and working on the car in the right direction," VanDyke said when asked why his red No. 15 Chevrolet had been so dominant. "We were lucky and the good Lord took care of us."
His best performance came in the last race on June 24. That night, he built a half-turn lead.
"We threw a little more coal on the fire," said VanDyke, who ended up winning comfortably over second and third place drivers Nik Williams and Brad Housewright.
Although there are adjustments on Friday at the racetrack, VanDyke said the race was won earlier in the week.
"It's the most fun part on race night. We come here to collect the trophy and we are doing everything to win the race," said VanDyke. "We put in 30 to 40 hours a week, at night, usually because we have regular jobs. We experience different things. You know, if you don't innovate, you won't get anywhere. So you have to think outside the box and figure out what's better than the next person to stay ahead of the game.
He said the Late Model Stock cars were pretty straightforward when he first started racing in the class, but have become "quite dynamic" over the past few seasons.
In addition to its own success, VanDyke started a driver development program. One of the teenage drivers, Chase Dixon, became a winner in his own right. Now, VanDyke is mentoring a pilot from North Carolina with adult sports pilot Alex Keith.
For teenagers, VanDyke encourages them to take all engineering-related subjects in school, such as learning geometry from all angles.
"They can learn about angles, spindles and the list goes on," he said. "Anything they can learn in engineering helps in racing."
THE CANTER CONTINUES TO WIN
Canter didn't drive the familiar Dale Earnhardt-inspired black No. 3 that fans often associate him with.
Instead, he raced the silver No.9 Chevrolet, owned by his grandfather, Hershell Robinette, in the Mod 4 class. The results were the same with the Abingdon driver winning five of the first six races. He didn't just win at Kingsport.
Earlier this season he also led in points at Motor Mile Speedway and Lonesome Pine Raceway.
"We're still leading them at Motor Mile, but we took a little vacation to Eldora, Ohio to watch some dirt racing and lost the points lead at Coeburn," Canter said. "My two main goals are here and Motor Mile. I hadn't planned to race here this season until people told me to race this car.
He was back with the n°3 on Friday evening and the car is still as fast as he was the fastest in qualifying. As for car #9, he gave credit to his grandfather.
"Papaw's car has been him all week," Canter said. "I call him and he asks me what to do. He makes the changes throughout the week as I work. He does the heavy lifting on it and I just show up and drive.