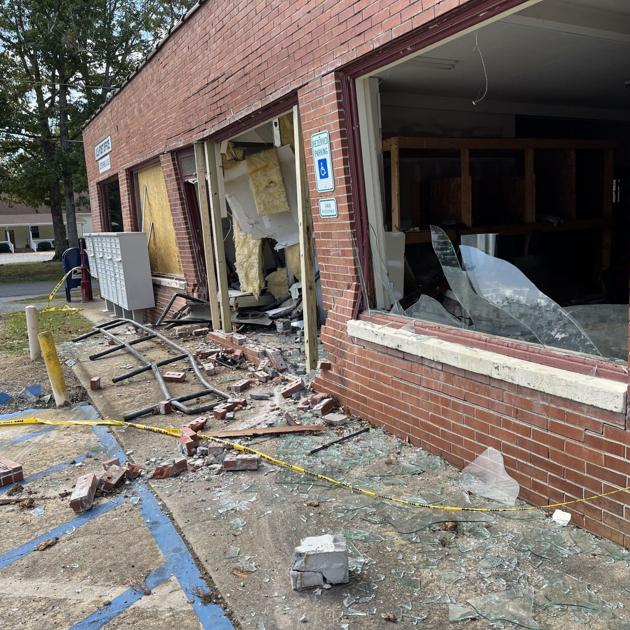 Post office destroyed; 19-year-old arrested after building in Cluster Springs was hit | Local News
A 19-year-old man from south Boston faces multiple hit-and-run charges that occurred at 2:58 a.m. Saturday after hitting the Cluster Springs post office.
Brock Owen Poole of Huell Matthews Highway faces one felony charge each for assault and battery on a police officer, child abuse, possession of Schedule I or II controlled substances and delivery of a weapon / ammunition to a prisoner.
He also faces a misdemeanor charge of reckless driving, unsupervised hit and run, buying alcohol for someone under the age of 21, fleeing law enforcement, driving without a license and selling tobacco to a minor. .
According to Halifax County Deputy Sheriff Giles Jones, he first saw Poole and two other people in a Chevrolet Suburban on Ashcroft Place "partly on the roadway and partly in the ditch."
When the suspect put the vehicle in reverse, Jones activated his lights and Jones said Poole restarted him and headed for Huell Matthews Highway.
Jones chased the Chevrolet and when he got into the vehicle he said he pulled over after hitting the post office.
"Another unit watched Poole exit the vehicle," Jones said.
After exiting the vehicle, Poole embarked on a short foot chase and was apprehended by Giles.
"He was combative in his resistance to arrest," he added.
Upon his arrest, Giles noticed that Poole "smelled like an alcoholic drink", and suspected narcotics were found on Poole's person.
Two passengers were also in the vehicle with Poole. One of them was a minor who Giles said complained of minor injuries and was taken to hospital in a private vehicle.
The identity of the other passenger was not immediately available.
Virginia State Police were also present at the scene and Private RL Compton is the investigating officer.