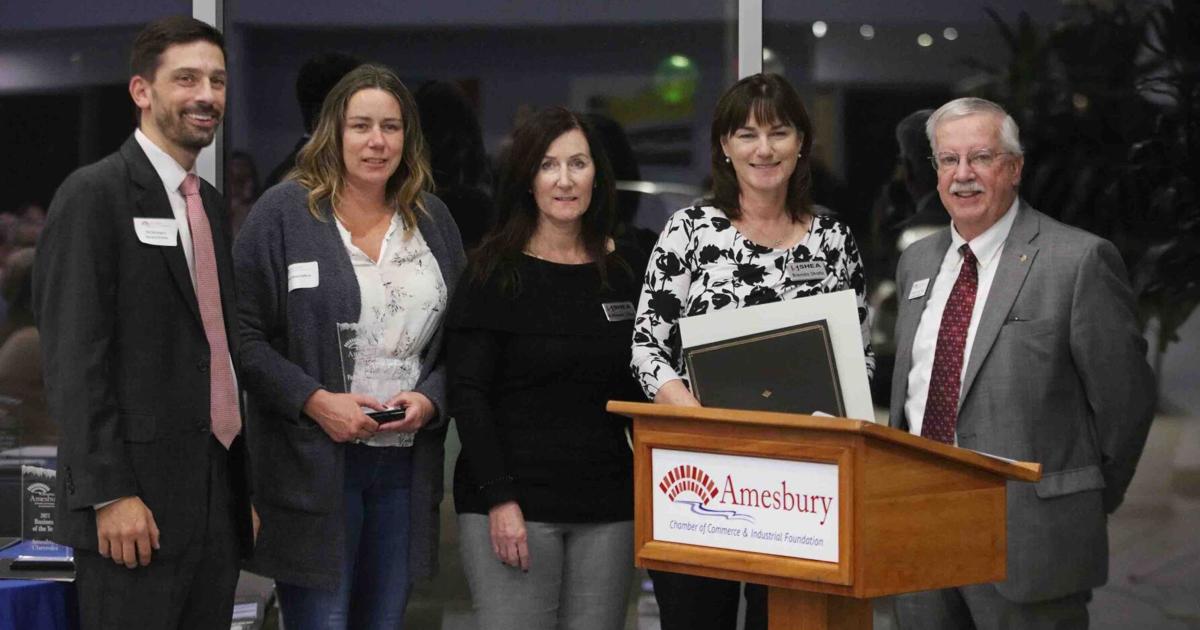 Polito congratulates Amesbury businesses on pandemic response | New
AMESBURY – The Lieutenant Governor thanked business owners like those gathered at Amesbury Chevrolet for their crucial help during the COVID-19 pandemic at the Amesbury Chamber of Commerce annual meeting on Thursday evening.
Lt. Gov. Karyn Polito was joined by State Representative Jim Kelcourse, R-Amesbury and Mayor Kassandra Gove on the podium in front of a crowd of around 100 local business owners and city officials on Thursday evening.
Polito explained how Gov. Charlie Baker's administration handled the onset of the pandemic and the ongoing economic recovery.
"I think of COVID as a three-act play," Polito said. "The first was jamming. The second was the reopening and the third is the recovery, the rebound, the revitalization of our Commonwealth. "
Polito added that the administration quickly turned to the business community to help manufacture and deliver personal protective equipment in the spring of 2020 and possibly prepare for a reopening of the economy that summer.
"We were able to do it safely and successfully," she said. "It wasn't because of the rules, it was because of you. It was because of the business community's willingness to step up and do the right thing.
According to Polito, Massachusetts has a thriving innovation economy with workers in science, technology, engineering and math making up about 18% of the workforce.
"It was the discovery, research and development of vaccines that started here in this Commonwealth that allowed us to harness medicine and then the whole reopening of life," Polito said. "It started here in Massachusetts and the government has proven that when they want to do something fast, they can do it."
She ended by thanking the business leaders for being partners with the State.
"(You) made sacrifices, you take risks, you are filling the payroll and you care deeply, not only for your own family but also for your working family," Polito said. "You are integral to the success of this region and the success of this Commonwealth. "
Gove also praised the gathered business owners for their help and innovation over the past two years.
"You have pivoted and come together to form new partnerships, business and marketing models, and new ways to engage your customers," said the mayor. "I hope you felt that love and appreciation in return from your customers. Whether it was behind a mask, a curbside pickup or a lowered door or the first day you reopened your doors I want to thank you for engaging with the city in new ways.
Gove said the city will continue to invest in programs and upgrades to help increase foot traffic and improve mobility to help local businesses.
The mayor ended by telling the crowd that his administration continues to see people moving into the city.
"Usually they don't just slip in and say, 'I want to be in Amesbury', do they? Said Gove. "They have been here before, they have visited our businesses and spent time in our community. Thank you for being our gateway and for being a great welcome party.
Kelcourse paid tribute to the city's former director of community and economic development, Joe Fahey, who was in attendance on Thursday evening.
"Joe, thank you for your vision and your desire to see Amesbury truly be what he is today," Kelcourse said.
He also praised the Baker administration.
"If Charlie Baker and Karyn Polito were President and Vice President of the United States, this country would be a well-oiled machine," Kelcourse said.
The chamber also elected its leaders Thursday night, with Ovedia Artisan Chocolates owner Antoinette Whitney being named president.
Stone Ridge Properties real estate agent Judy Dodier has been appointed vice president. Greenstone Property Management owner Monique Griffin has been re-elected treasurer and 14 Cedar Street Studios and The Trades owner Barbara Lorenc will return as clerk.
Editor-in-chief Jim Sullivan covers Amesbury and Salisbury for The Daily News. He can be reached by email at jsullivan@newburyportnews.com or by phone at 978-961-3145. Follow him on Twitter @ndnsully.
Editor-in-chief Jim Sullivan covers Amesbury and Salisbury for The Daily News. He can be reached by email at jsullivan@newburyportnews.com or by phone at 978-961-3145. Follow him on Twitter @ndnsully.