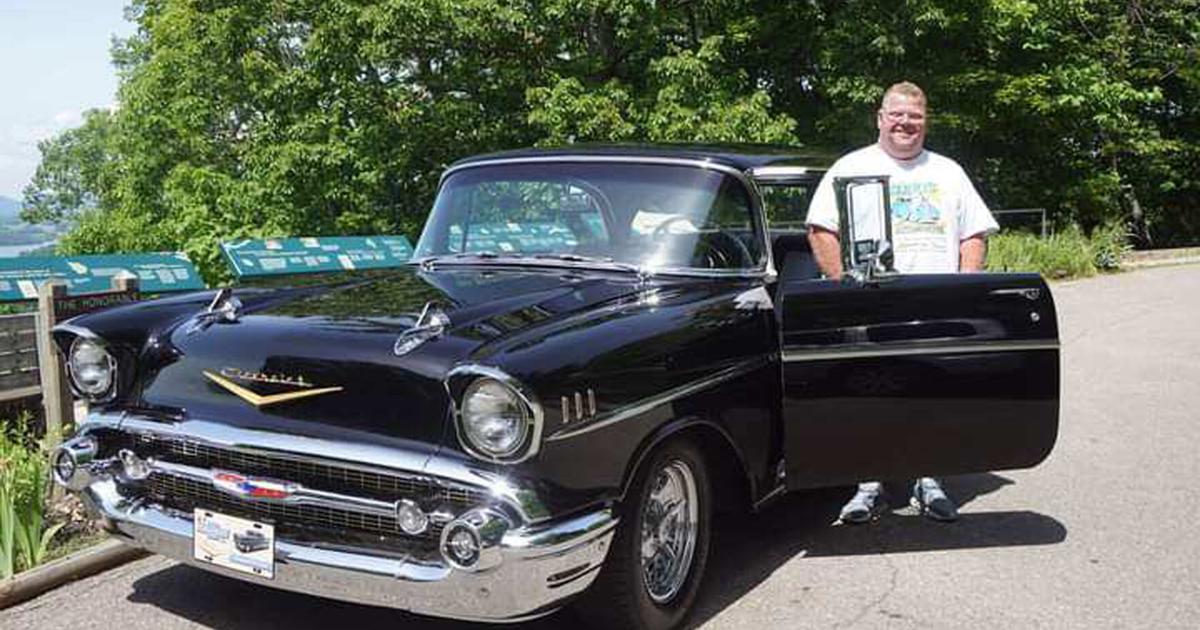 Mitchell's Chevrolet 57 to Be One of Many on Display at Winter Angel Car Show | Local news
After a year off due to the COVID-19 pandemic, the Winter Angel Car Show, hosted by the Hamblen County Car Club, returns to the Great Smoky Mountains Expo Center in White Pine next weekend.
The motor show, usually annual, is a fundraiser for the Kingswood School. The money raised during the event, which takes place Saturday and Sunday, will be used to celebrate Christmas for the school children.
The show will showcase a wide range of classic cars and trucks whose owners are eager to show off the mighty engine, mag wheels or vintage interiors of their cars.
But if you come across the black 1957 Chevrolet Bel-Air owned by Kevin Mitchell, ask him to open the trunk.
Mitchell's father Billy, affectionately known as Moose, bought the Chevrolet 57 in 1969. Moose drove the classic car until 1977 when he parked it and focused his finances on educating. his four children.
The car served as a twin passion for father and son, a bond built on DIY, repair and dreaming.
"Our connection was the cars," Kevin explained. "I still have the very first Hot Wheels magazine he ever gave me.
Moose retired in 2004 and Kevin had an idea.
"I said to daddy, 'Why don't we start playing with the car a bit? »Says Kevin. "It has always been my dream to fix this car. "
They tagged it and started tinkering. Kevin said he had some ideas on what he wanted to do with it.
"The next thing I know is I had to rip it up completely," he said.
Moose's beautiful Chevrolet 57 spent the next 10 years in pieces in the basement.
"My step dad looked at me and said, 'Boy, this car will never run again,' Kevin said.
But he did and it took the love and support of the whole family.
"I am fortunate to have a wife who supports me in my hobby and she also loves my hobby and my daughter, she loves it too," he said.
Kevin rebuilt his father's car using original parts as he could find them. Moose had original parts for his Chevrolet 57 convertible that had been stolen before he could put them on, so Kevin used them in the Bel-Air.
Whenever he could, Kevin applied a personal touch like magnets that match the old BT Chevrolet badge that would have originally come on the car and the authentic Hamblen County labels from 1957.
"Just little stuff like that, sentimental stuff," he said.
As the father and son approached the finish line, another obstacle presented itself. Moose was diagnosed with cancer.
The father being in the hospital and undergoing life-saving treatment, he had a simple encouragement for this son.
"He said 'Don't stop working on this car,'" Kevin said. "I said, 'Daddy, I won't.' I told him I would have glass in it when he came out and we did.
Father and son were able to enjoy the car with their family for about five years before Moose made his final lap.
Now the car serves as the essence symbol of the love of father and son.
"It's more than a piece of metal. It's the family. It's a memory and it's a connection, "said Kevin. "The car did what I wanted it to do, my dad got to see it and enjoy it."
And he made his father-in-law a believer. Now his wife's dad is as proud as anyone when they go to the auto show. He gets people to see Kevin's success.
He said, 'I told him he would never put that car back on, but look what he did. "
Oh, you might be thinking, what about the trunk?
Well, if you've read this far you might as well be familiar with the last part of the story, the last piece of the puzzle Kevin was putting together on Saturday night.
Kevin wanted to put the spare tire and the vintage jack in the trunk. He had the tire. Saturday night he finally got the jack.
"It took me six years to find it," he said. "It was the last piece of the puzzle."
The Winter Angel Car Show takes place on Saturday January 15 from 8 a.m. to 9 p.m. and Sunday from 9 a.m. until the final prize is awarded at around 2 or 3 p.m.
For more information about the supplier, call Albert de Chantelle Combs at 609-915-0031.