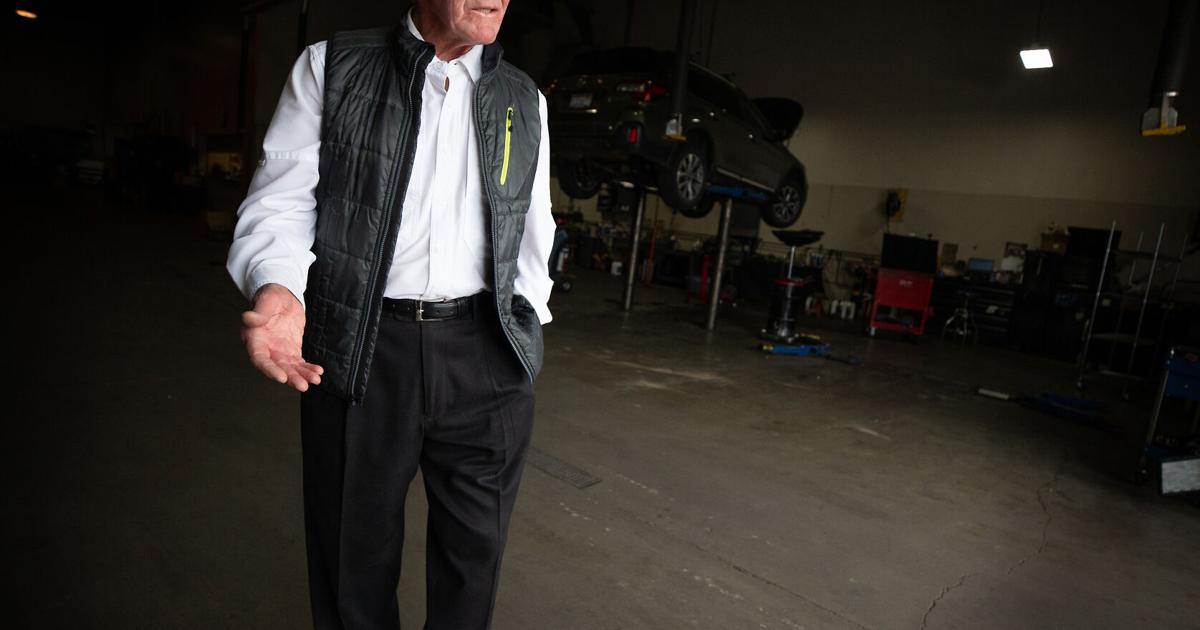 Look at | Cascading Auto Center | Business
Times are tough in the car sales industry right now.
A shortage of computer chips and global freight issues due to the pandemic left car lots in storage. New cars are hard to come by and used cars are selling for more than they have ever been.
Steve Baldock, owner of Cascade AutoCenter, should be worried.
Baldock has been through worse times.
Take the first year he opened his dealership. In 1980, the economy was going through a tough time with car interest rates at 20%. Due to a state cap on interest rates for businesses, the maximum he could charge for loans was 12%.
"I lost money that first year," he says.
But gradually things got better.
"Interest rates have started to fall; they introduced the Chevy Citation in 1982, which was a big hit," he says. "The product got better, the economy got better, and I got smarter."
Baldock occupies a unique place in the Wenatchee automotive market. Of the six concessions in operation in 1980, his is the only one still in original ownership. The others have all been sold or changed hands.
Baldock attributes much of his success to his business model.
He says he doesn't care about spending money when necessary, and he puts his priorities on three things: the long-term health and survival of the company, the well-being of his employees and "complete satisfaction" of customers.
The high interest rates of the 1980s were just one of many crises Balcock survived. Among them: the 2008 financial crisis, and the coronavirus pandemic.
The latter completely closed the dealership for two months. For another two months, car sales were by appointment only.
Baldock had to lay off 94 employees.
"There were only six people working here and I remember telling them, 'This is an opportunity. We're not going to sit here and wring our hands over this. It's a new day in a different world. "
In the end, his mindset worked.
"We've downsized and come out of the pandemic much stronger than we were when we entered it," he says. "Now we run lean."
Yet car sales are down. In a typical month, Baldock says, the dealership sells 140 cars. In February, it sold 88 cars.
Baldock, again, isn't worried.
"Because of my experience in 1980 and 1981, I know everything seems to work," he says. "I sleep at night; I. Don't worry. I don't get too lathered.
Baldock, 72, began his working life at Weyerhaeuser Co., while earning a bachelor of science degree in forestry. He met his wife, Jane, when they were both attending the University of Montana.
Forestry, he says, called him because he loves the wilderness.
"As a child, I wanted to be a taxidermist and I wanted to move to Alaska," he says. "I was an outdoor kid."
While working for Weyerhaeuser, he undertook hazardous work as a collar setter for high-lead logging and later worked on a survey crew and in the company's headquarters office. at Federal Way. He says he loved the job but decided on a new career when the company asked him to move away from his Arkansas roots.
Instead, Baldock started working for Jane's father, who owned a car dealership in Los Angeles.
"I started building bins in the parts department and eventually became general manager," he says.
When an opportunity to purchase a dealership in Wenatchee presented itself in 1979, he purchased the North Central Chevrolet dealership at 239 North Wenatchee Avenue. It was started by Don Miller in 1932. The business started in 1980 and within five years Baldock had bought out the share held by George Miller, who was Don Miller's son.
Initially, the company, now called Cascade Autocenter, had 17 employees. Today it employs 106 people.
In 1987 Baldock acted on the advice of his wife, who saw the town expanding northward, and purchased nearly five acres on Easy Street. The new location opened in 1990. Baldock continued to purchase land and now owns approximately 10 acres on high-visibility space near the trunk road.
Baldock says he doesn't regret having studied and worked in forestry.
He thinks science has helped him develop an analytical mind.
"A lot of that goes to the financial end of running a business," he says. "And math has always been very easy for me."
He says he likes "gadgets" too, and in 1995 he was one of the first dealers in the North West to set up a web page for the company. He credits the forward-thinking managers, as well as the creation of Cascade Autocenter's Internet sales department.
"I tried to hire people who are smarter than me," Baldock says. "Now I bear the fruit of that labor. I have a well-functioning machine here.
These smart people still have their work cut out for them.
"When I think about the future, with electric vehicles for example, there are very few moving parts," he says. "There is no internal combustion, no transmission; what will my shop do in this case? It's a big source of my income.
He looks at Tesla, which is sold direct from manufacturer to customer, and wonders how long the state's dealer protection laws will hold.
"In a hundred years, there may not even be any car dealerships left," he says.
Yet Baldock is focused on the near future. His son, Jordan, is now a minority owner and managing director, and Steve Baldock expects him to eventually own a majority share. His other son, Alex, also works at the dealership. He is responsible for human resources and security.
Baldock says one of his great pleasures now is coaching not only his sons, but also his employees, in his philosophy of doing business. He brings Christian values ​​to the typical business bottom line of building a strong and viable organization.
"Every time I leave in the evening, I say thank you to our receptionist," he says. "She and all the employees deserve this."
He also wants customers to feel valued.
"I like to say I want to be your car dealership for life," he says. "I want you never to consider buying anywhere else."
Baldock thinks of himself as a car dealership for another eight years as he watches Jordan gain a majority stake.
That means he'll work until he's 80. And it suits him. He is not worried.
"Every Monday morning I have a little smile on my face; I have to go back to work today and I love what I do," he said. "I love cars and I love being here. It's exhilarating for me.