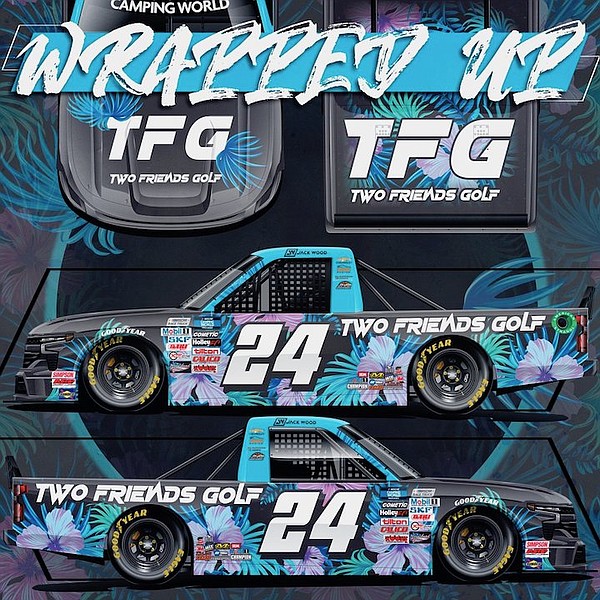 Lakeside graduate forms partnership with NASCAR driver
A Lakeside graduate who successfully launched a golf apparel business after moving to Arizona will now see his company name on full display during the NASCAR Camping World Truck Series Toyota 200 at World Wide Technology Raceway today in Madison , Illinois.
Matt Erickson graduated from Lakeside in 2014, then went to college at Arizona State University. Although he was not a big golfer before the pandemic, COVID-19 forced Erickson and a friend he met in college, Nate Baker, to hit the course often because it was an activity that was taking place outside.
Erickson and Baker soon realized that golf apparel tended to be bland, solid-colored, and just generic. The duo created Two Friends Golf, a company that creates colorful and lively golf apparel that makes players on the course feel good and stand out.
"We spent a lot of time getting samples and stuff, and it all went from there," Erickson said. "When we placed our first order for 50 shirts, it sold out instantly, and it was just word of mouth with our friends."
Since founding Two Friends Golf, Erickson has grown his business by reaching out to influencers and professional athletes on social media. The company sends clothes to these influencers and athletes and creates a working relationship with online and sports personalities.
Instead of starting with more traditional marketing methods like paying for promotional posts and calling different golf clubs, Two Friends Golf has partnered with influencers like Tik Tok personality Too Turnt Tony.
"We started contacting mainly via Instagram only a group of influencers or professional athletes saying, 'Hey, we've been your fans for a long time. We have this polo business, and we think our culture, if you will, would really suit you guys," Erickson said. "It really made us have a broader view of other people."
Through various NASCAR connections, Erickson eventually reached out to GMS Racing driver Jack Wood, a 21-year-old NASCAR Camping World Truck Series driver, about a potential partnership.
After sending shirts to Wood and his team, the relationship only grew. Two Friends Golf even created shirts embroidered with the team logo.
The team came to Erickson and Baker a few months ago with the opportunity to wrap Wood's truck in a Two Friends Golf Principal Partnership design – a custom design with the company as the title sponsor – for the race at World Wide Technology Raceway.
"Jack's personality suits him really well," Erickson said. "He loves to wear our polo shirts to the races. So it went from there."
Two Friends Golf worked with the Woods team to create an envelope that represents the brand well. The truck will be adorned with purple, blue and pink flowers on a black background, closely resembling one of the company's polo designs called Lights Out.
"We had to sit down with their graphic designers, their PR people and design not only his car, but also his fire suit," Erickson said.
The truck will also display the Two Friends Golf logo on the hood, bed and sides of the vehicle.
"Me personally as a lifelong NASCAR fan, it was a dream come true," Erickson said. "Seeing this graphic design mockup was just amazing."
Just looking at the packaging got Erickson and Baker thinking about Two Friends Golf's journey from startup to being the title sponsor of a NASCAR truck.
"That's when Nate and I were just sitting there watching him," Erickson said. "We think this company, our first order was just about 50 weird shirts, and we're going from there. Now he and I are sitting around looking at a NASCAR truck that we had to design. It was really a amazing feeling, and it's been a lot of hard work that we've both started to feel like it's really paying off."
The future relationship between Wood and Two Friends Golf is still ongoing, and Erickson said both parties look forward to a long-term partnership.
Two Friends Golf is looking to continue to grow its brand by working with more wholesale accounts, including retail outlets and golf clubs across the country. Of course, Erickson and Baker are always looking to develop relationships with influencers and athletes, which they've managed to do in a short amount of time.
"It's something we've always talked about and researched," Erickson said. "We certainly haven't seen it come that quickly in the time frame we've run Two Friends Golf."
Fans can catch the No. 24 Two Friends Golf Chevrolet Silverado RST at 12:30 p.m. today on Fox Sports 1 (Resort Channel 34).