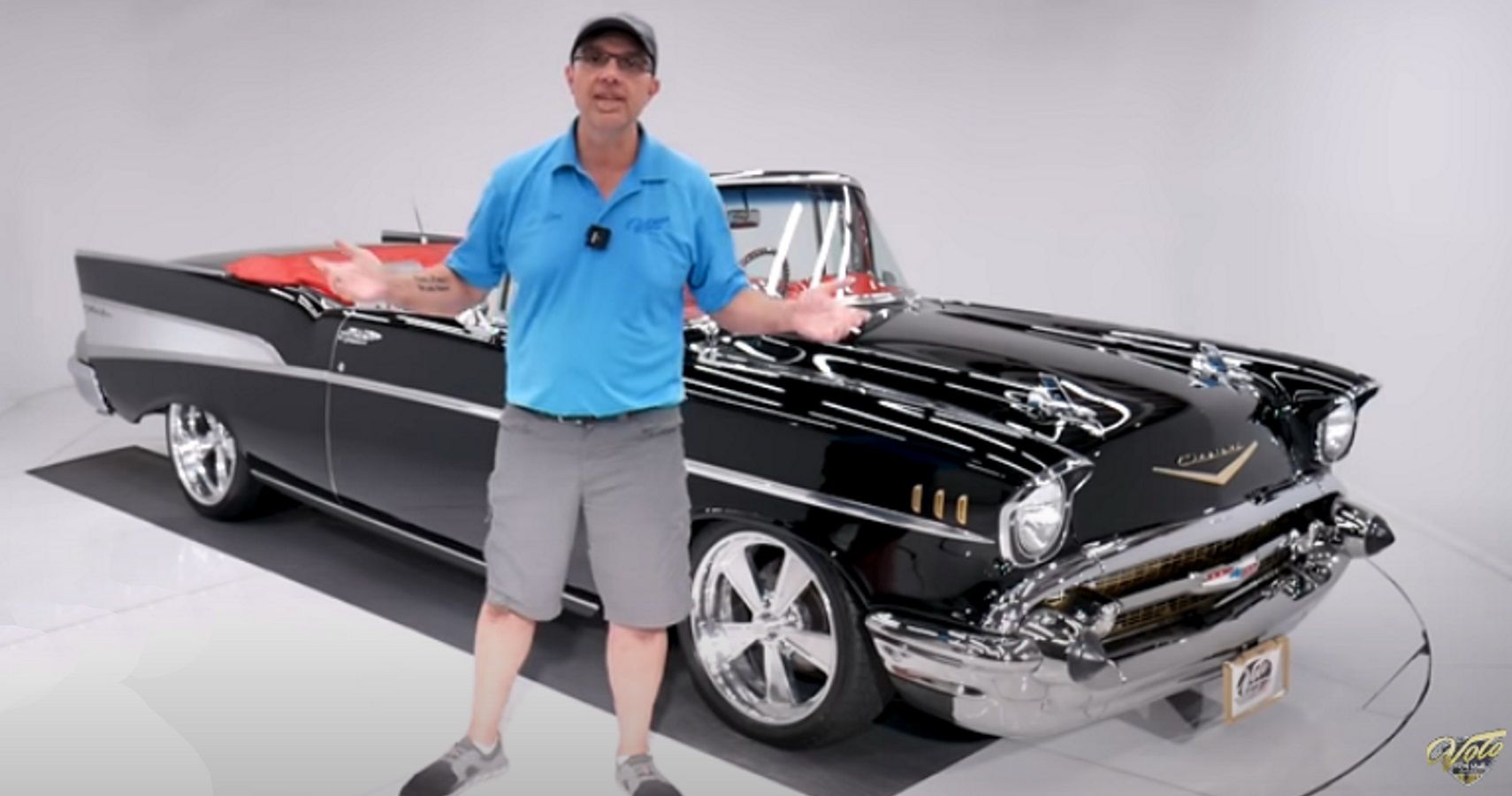 Imagine Having This 1957 Chevrolet Bel Air As Your Daily Driver
Little classic cars can turn heads like a 1957 Chevy Bel Air. And the gloss black convertible featured in a new YouTube video by Volo Museum Auto Auction is no different. Presenter Jay Grams guides viewers through an exceptional vehicle with classic and restomod elements. It's a memorable "retro" Chevy that's ready for everyday driving.
Notably, General Motors covered the United States with over 1.5 million '57 Chevrolets, but only 48,068 left the factory in convertible form.
RELATED: It's the Best Feature of the 1957 Chevy Bel Air
A near-perfect '57 Chevy exterior
Bright lights add to this Chevy's shimmering aura as Grams highlights a damage-free exterior. It draws attention to a straight body with consistent panel gaps, while a look underneath reveals a clean chassis.
Grams mentions that the paintwork looks perfect from a distance, but comments that close inspection reveals a few imperfections, the most notable being a few crow's feet cracks on the trunk lid. Five-spoke rally-style wheels offer clues that this isn't a stock Chevy, while 19-inch tires in the rear and 18-inch rubber up front help a more aggressive stance.
RELATED: Dennis Collins Sells His 1957 Chevy Bel Air to Misfits Garage
Restomod details inside
Topping the restomod parade for this 1957 legend is a 350 ci Chevy crate engine, which is said to produce 340 horsepower. It is backed by an Edelbrock carburettor and modern steering, braking and cooling systems.
An immaculate red-lined cabin benefits from plenty of reproduction components, but retro styling updates bring the restomod theme inside. These contemporary touches include a radio, kick panel speakers and HVAC controls.
About the 1957 Chevy Bel Air
Only a handful of vehicles in American automotive history are as iconic as the '57 Chevy. Just the mention of it brings up thoughts of socks and jukeboxes (if you're old enough) or fond memories of movies at the very least.
You could say this car is so legendary because it brought Cadillac-level refinement to the masses. Meters of chrome and exaggerated design touches (like grille torpedoes and exaggerated tail fins) also helped set the '57 apart from the more subtle 1955 and 1956 models. All three years include the Chevy Tri-Five series .
The Bel Air trim was at the top of the pecking order, but the lower-priced 150 and 210 versions allowed budget-conscious buyers to get in on the action. Chevy built 1,555,316 examples (in multiple body styles like the Nomad wagon) for 1957, representing the seemingly endless supply of these classics even today.
Sources: YouTube/Volo Museum Auto Sales, classicindustries.com