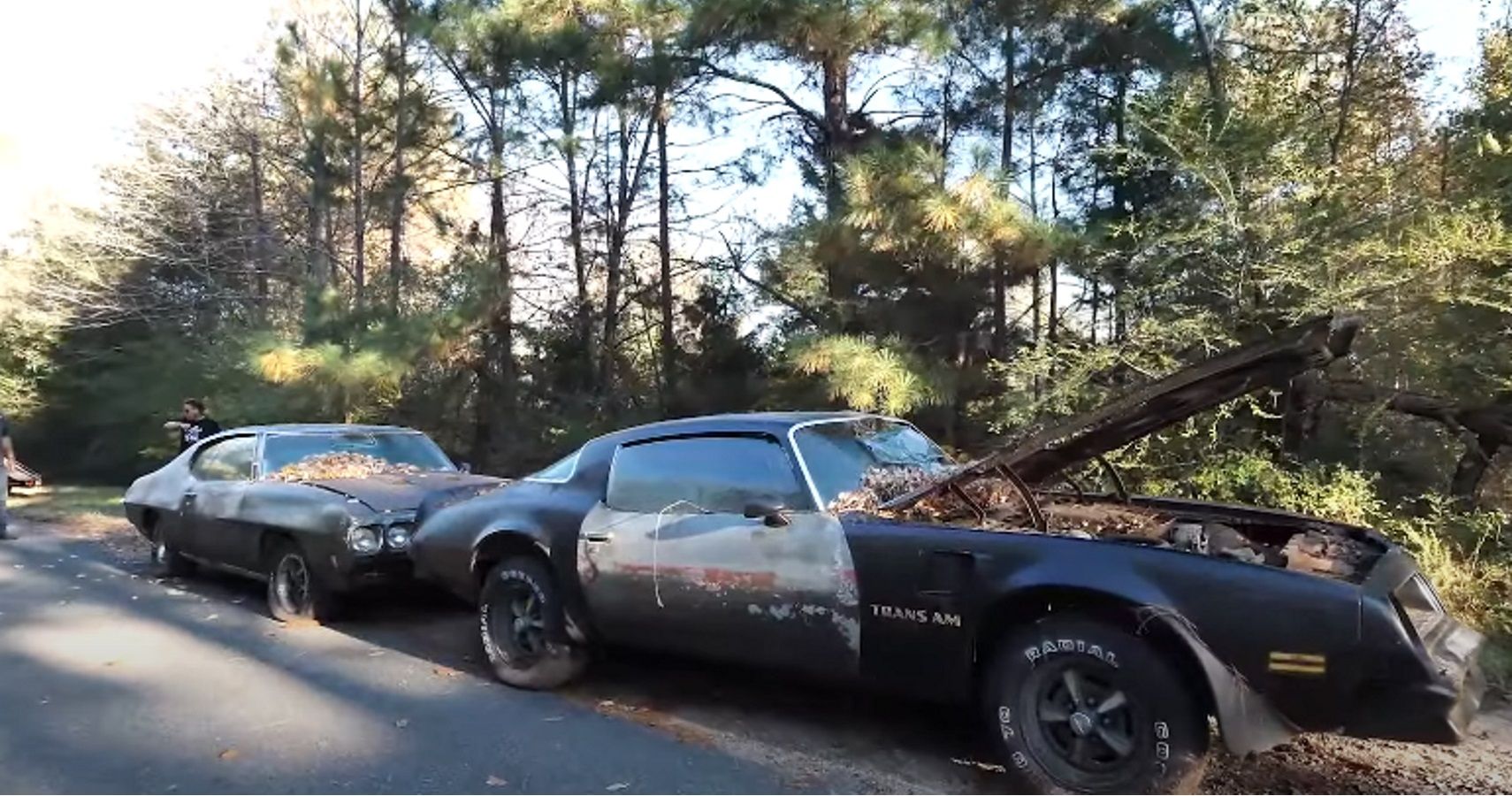 Follow Dennis Collins' multi-vehicle rescue from North Carolina's massive muscle car collection
Faced with over 50 cars to choose from, Collins primarily checks General Motors cars from the 1960s and 1970s.
Dennis Collins' latest YouTube adventure takes epic proportions as the team heads to Sanford, NC for a multi-car rescue like no other. While visiting a forest full of dilapidated cars is nothing new for Collins, this time around he comes in the extra help of collecting several classic cars. Faced with over 50 cars to choose from, Collins primarily checks out General Motors cars from the 1960s and 1970s like the Pontiac Firebird and Chevrolet Camaro.
FOLLOW HERE: Official Hot Cars on Twitter
Five classics return to Texas
The massive collection of rusty classics comes from an unnamed man who spent the previous decades regularly acquiring cars that would be driven for a short time and then put on pasture. While choosing cars for Collins' next project is hard enough, extracting nearly sunk cars covered in layers of tree debris adds to the challenge. Half of the hour-long video (more than double the length of a typical Coffee Walk video) is devoted to the monumental task of recovering the cars.
Collins sets up on five vehicles that he will bring back to Texas to be restored or revived as survivor cars.
RELATED: Dennis Collins Checks A Pair Of Rare Dodge Challenger SRT Super Stocks
Pontiac Firebird Trans Am 1971
Left to rot since 1980, this white (and rusty) 1971 Trans Am represents the second year of the second-generation Firebird. In the top-of-the-line Trans Am trims, this year's stock models came with a high-output version of GM's 455-cubic-inch V8 that put out 335 horsepower.
1976 Pontiac Firebird Trans Am
Continuing the Firebird theme, Collins also grabs a 1976 Trans Am. And, at least from the outside, it looks to be in good shape. The original black paint is largely intact and exterior rust is minimal. The power of it comes from a 400 cubic inch V8.
1970 Pontiac GTO
Another Pontiac will return to Texas, but this time it's a GTO. Viewers are kept in the dark about the powertrain, but this year's GTOs had the 400- or 455-cubic-inch V-8.
1965 Volkswagen Bus Type 2
Collins falls in love with a rusty VW bus that sits among the decaying steel of Detroit. The van has seen better days (inside and out), but Collins isn't put off by his condition.
1969 Chevrolet Camaro Cabriolet Pace Car
The rarest of Collins' picks, this convertible was a festival special version of the Camaro race car built for the 53rd Indy 500. Unlike commemorative race cars, festival vehicles were track vehicles used to transport VIPs. around the race. This festival car is one of 50 built.
Sources: YouTube, hemmings.com
10 reasons why you should buy a used Nissan GT-R now
Nissan's iconic supercar has been in production for over 10 years, but they won't be making new GT-Rs for long.
Read more
About the Author