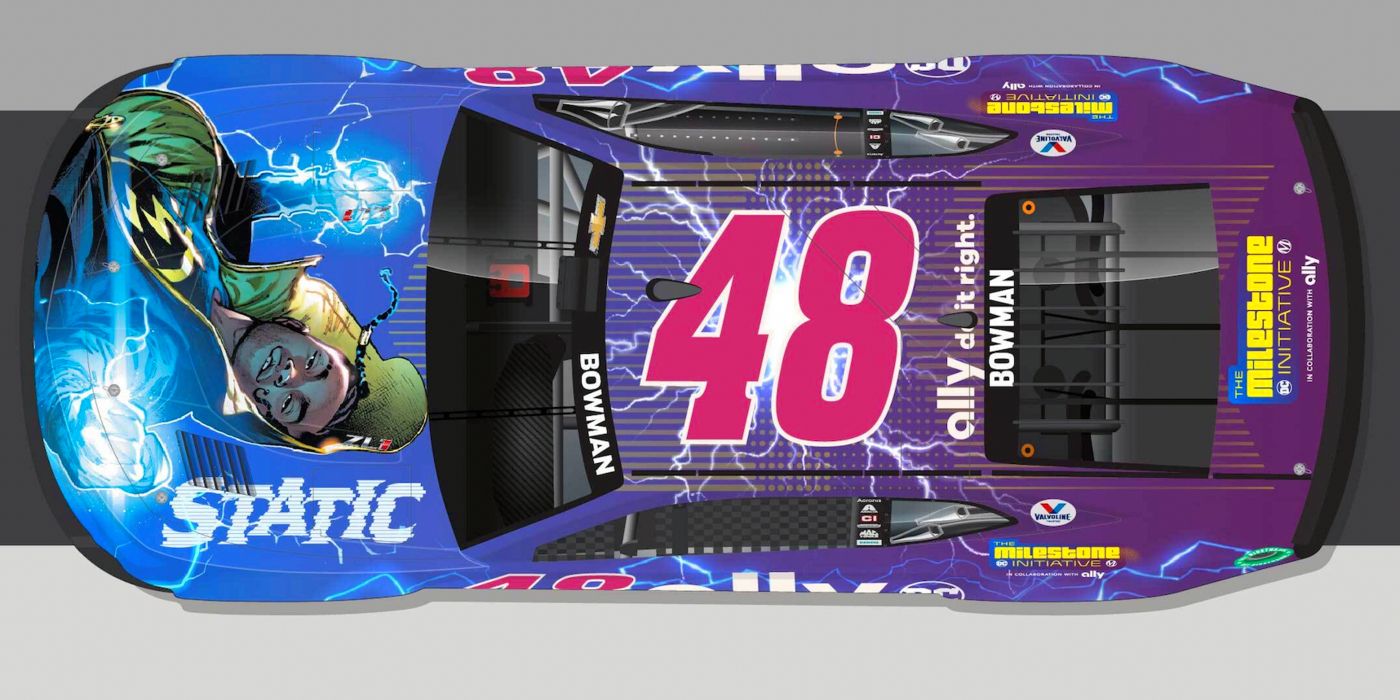 DC, Milestone Static Shock Takes Over Alex Bowman's NASCAR Camaro
DC and Milestone Media's Static, a character from the Milestone universe, takes control of NASCAR driver Alex Bowman's Chevrolet Camaro.
Ally Financial, Milestone Media, DC and Warner Bros. Discovery have unveiled the new paint design for the No. 48 Bowman Chevrolet Camaro ZL1 1LE from Hendrick Motorsports, which Bowman will race for the July 10 Quaker State 400 at Atlanta Motor Speedway. The new look sees Static from Milestone Universe – a character created by Milestone Comics founders Dwayne McDuffie, Denys Cowan, Michael Davis and Derek T. Dingle who first appeared in 1993 Static #1 – placed on the hood of the vehicle, while other electrical components are additionally integrated into the design.
RELATED: DC and Milestone Media One-Shot Spotlights the Real Heroes of Black History
Bowman will also wear a bespoke fire suit and hand-painted Milestone Universe helmet at the upcoming race. "Ally is doing a really good job of bringing the NASCAR community together and having Static on the car is another way Ally is doing it right," Bowman said in a statement. "I think it's really cool to have a superhero on the #48 Chevy Ally in Atlanta and to be able to contribute to Ally's goal of making NASCAR more inclusive is a unique opportunity that I'm proud of. to be a part."
The new paint job supports the Milestone Initiative, a collaborative program between Ally, DC, Milestone Media and Warner Bros. Discovery which was announced in 2021. The Milestone Initiative aims to mentor and train the next generation of comic book storytellers who come from Black and diverse backgrounds. "Since its inception, Milestone has always been about mentorship, storytelling, and shifting the comic book and entertainment paradigm through our characters," said Reggie Hudlin, Milestone Media Partner and award-winning producer. "Having both The Milestone Initiative and our most popular superhero represented on the NASCAR stage is an incredible opportunity to share our vision and expose our mission to a new and evolving audience."
RELATED: EXCLUSIVE SNAPSHOT: DC's Milestone in History Shines Spotlight on Alexandre Dumas, Activist Katherine Dunham
Andrea Brimmer, Ally's Director of Marketing and Public Relations, added: "Ally believes representation is important, which is why we've partnered with Milestone Media, DC and Warner Bros. Discovery to share the stories and l Milestone Comics' history with a new generation. We're committed to being a catalyst for change and celebrating diversity in everything we do. We hope this incredible paint scheme, featuring an iconic black superhero , will help make the sport we love a more inclusive space for everyone.
Milestone Media was founded in the early 1990s with the intention of providing representation to minorities who were otherwise largely absent from American comics. Published by DC Comics, Milestone Media is known for creating titles such as Static, Material, Blood Syndicate and more. DC and Milestone Media recently relaunched a new line of Milestone Universe properties from the 2020s Stage feedback #0.
Source: CC