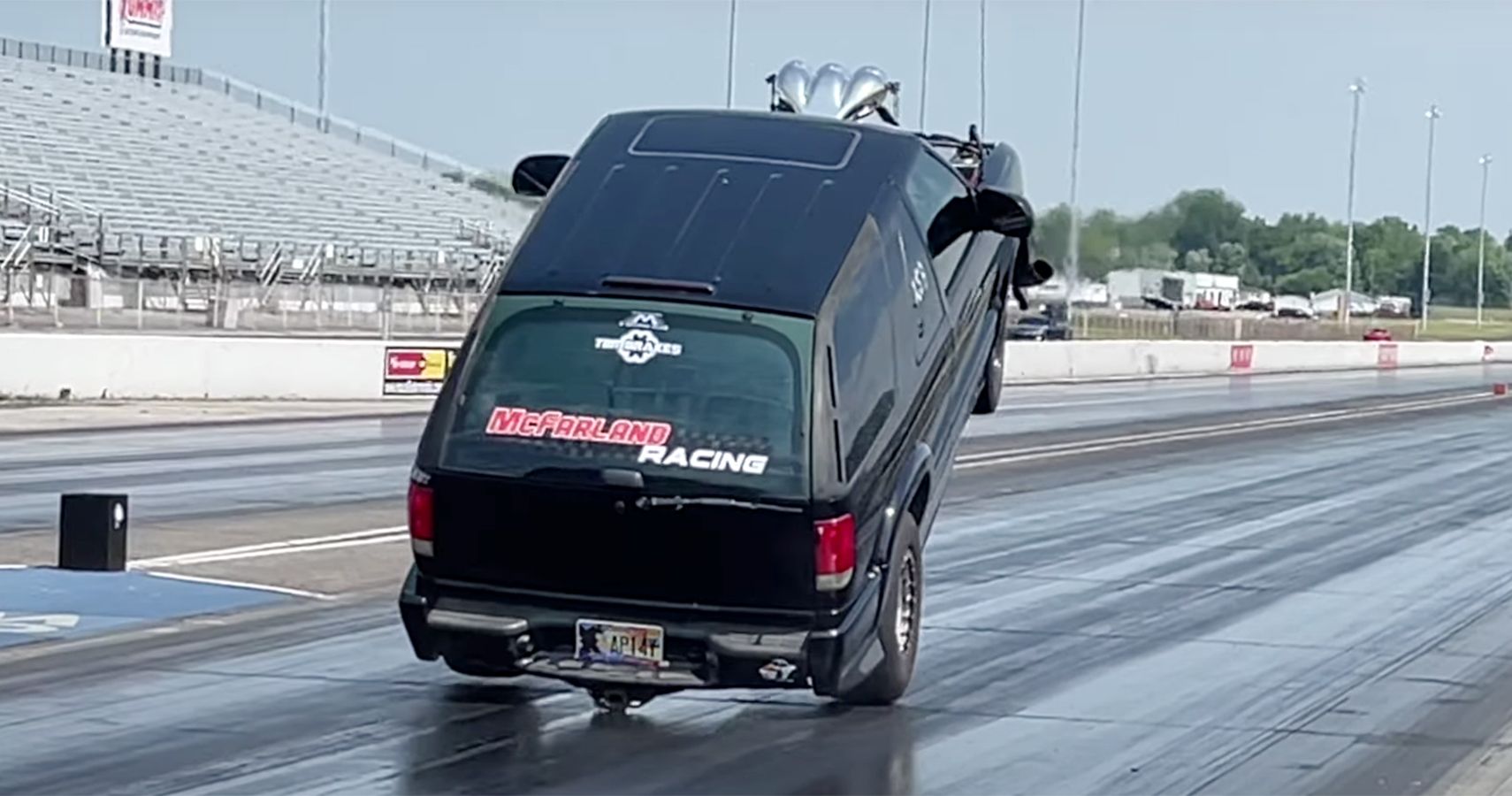 Check Out This Chevrolet Blazer Doing A Huge Wheelie And Causing Some Serious Damage
For automotive personalities like Garrett Mitchell aka Cleetus McFarland, broken cars will always happen. After all, Cleetus being bold and adventurous makes these cars susceptible to damage. Nevertheless, he is still able to bring these cars back to life with his resources and repair skills.
Cleetus' garage houses a super-fast and powerful LS exchange Chevy Blazer, who recently returned to racing after a good repair. The Blazer did a huge wheelie in a recent race and suffered damage as a result.
Rocky The 1,000 horsepower Chevrolet Blazer LS
Nicknamed Rocky the Blazer, this Chevy joined Cleetus' garage about a year ago. George Sicialiano – aka LS George and Cleetus bought this black Blazer traded by LS after their beloved Ruby, the Chevrolet C6 Corvette broke down. Since then, the Blazer has undergone a significant makeover, though most of it was mechanically related. However, the exterior mods were mostly stickers.
RELATED: Watch This Modified Chevy Blazer Perform Huge Wheelies on the Strip
Since its acquisition, the Blazer has been a staple of Cleetus' races and with George at the wheel most of the time. Cleetus also improved the car. Just over a month ago he installed a new blower motor, installed a complete new roll cage, new subframe, new motor plates, etc. Thanks to the upgrades, the Blazer now produces over 1,000 hp of power and over 800 lb-ft of peak torque.
Just another day on the drag strip
Cleetus (in his Mullet The El Camino) and his troop competed in Rocky Mountain Race Week 2022 where the Blazer went off course due to brake pedal failure. Nonetheless, the Blazer put on a very impressive display with its newly found power. After all, he scored a quick eight-second pass over the quarter mile. After the event, the Blazer then went into hibernation for repairs before entering the Street Car Takeover Indy.
RELATED: Uh Oh, Cleetus McFarland Broke His Chevrolet El Camino
Itching for a strong start at the Street Car Takeover Indy, George lined up the Blazer on the Strip. Perhaps eager to replicate his eight-second pass during Race Week, George had an excellent reaction time for the launch. Nonetheless, things went awry and the Blazer went for a massive wheelie on the pass.
When the front hit the ground hard, the bumper flew off and shattered into pieces when it hit the track. Initial assessment is that the engine plate has broken, George has lost steering and there is other cosmetic damage around the vehicle. With that in mind, the Blazer is expected to resume operations after these repairs.
Source: Cleetus McFarland on YouTube